List of County Press Releases.
1333 Atlantic Avenue
Atlantic City
New Jersey
08401
United States
+1 (609) 343-2313
Monday, June 30, 2003
Mosquito Spraying Scheduled for July 1st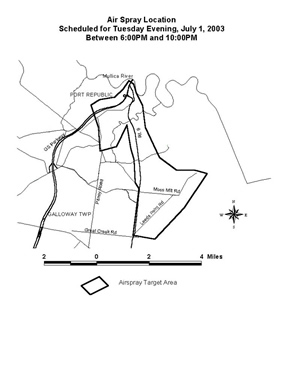 In an effort to reduce very high populations of salt marsh mosquitoes, the Atlantic County Office of Mosquito Control will be spraying the eastern portions of Galloway Township and Port Republic on Tuesday, July 1 between 6:00 PM and 10:00 PM.

Large numbers of the salt marsh mosquitoes have appeared in the area following the heavy rains that occurred several weeks ago.

Salt marsh mosquitoes are particularly aggressive to humans and can migrate quite a distance. The spray area will target the highest concentration of mosquitoes adjacent to their breeding areas on the salt marsh.

The air spray application will consist of a very low volume of malathion applied at the rate of three ounces per acre.
Also on Tuesday evening, localized spraying by ground application equipment will take place in Pleasantville, Buena Vista Township, Laureldale, and the south Egg Harbor area of Galloway Township to reduce high numbers of freshwater mosquitoes. The ground applications will consist of Resmethrin, a pyrethroid based pesticide that breaks down rapidly in the environment.

For more information on these spray activities call the Atlantic County Office of Mosquito Control at (609) 645-5948 or the West Nile virus information line at 1-877-64-FACTS for up-to-the-minute spraying schedules.
For more information click here.
Back to Top