List of County Press Releases.
1333 Atlantic Avenue
Atlantic City
New Jersey
08401
United States
+1 (609) 343-2313
Tuesday, June 24, 2003
County Begins Improvements to Address Tilton Road Drainage Problem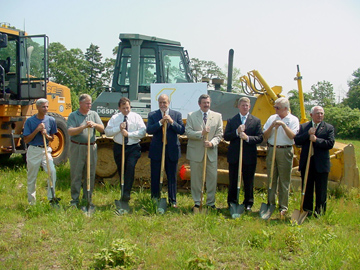 A major improvement to alleviate a severe drainage problem on Tilton Road in Northfield got underway today as a brief groundbreaking ceremony attended by state, county and City of Northfield officials took place to mark the beginning of the Tilton Regional Drainage Basin Project. According to Atlantic County Executive Dennis Levinson, the improvements will include the construction of a drainage basin off Burton Avenue and the system to take the stormwater run-off to and away from the basin. The construction contract with Key Contracting, LLC of Brick Township, New Jersey was awarded by the Board of Chosen Freeholders at a recent meeting.

"Tilton Road is one of the most heavily traveled roadways in Atlantic County," Levinson said. "We have been forced to close it to traffic for several hours on average six times a year due to flooding. When I became county executive, I was determined to address the problem. The complexity and costs involved in developing a solution have always been a serious impediment to resolving this problem. I want to thank my staff for putting their shoulder to the wheel finding a workable design and then for working with our state representatives to get this important project underway. I especially want to thank Senator Bill Gormley for his help in obtaining state funds to cover a portion of the costs of this project."

The total project cost, including land acquisition that occurred in December 2002, is approximately $2.5 million. Funding was received from the New Jersey Department of Environmental Protection and the New Jersey Department of Transportation. Construction is expected to begin in early July and be completed by mid-November.

Levinson stated that most of the work to be done on Tilton Road will occur out of the travel lanes or at night so no road closure will be required. Lane restrictions may be required but Tilton Road will remain open. Only occasional minor traffic delays are expected during the summer season. After allowing time for settlement and proper compacting of the excavated portions of the roadway, total width resurfacing is planned for spring 2004 under a separate contract.

"The fact that this road serves as an emergency evacuation route from the down beach communities of Ventnor and Margate gives this project added urgency," Levinson said. "The flooding during severe weather has been a problem for years. It only gets worse with the increases in traffic due to development on the mainland and in the growth communities of Atlantic County. This project, when completed, will address the problem."

For more information, please contact Howard J. Kyle at (609) 343-2223.
Back to Top