List of County Press Releases.
1333 Atlantic Avenue
Atlantic City
New Jersey
08401
United States
+1 (609) 343-2313
Thursday, August 22, 2002
Levinson Presents "Called to Duty: Recollections of Atlantic County Veterans"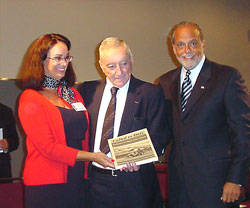 On August 21, County Executive Dennis Levinson presented "Called to Duty: Recollections of Atlantic County Veterans," a unique book containing more than 300 personal accounts and photographs of Atlantic County military veterans. Approximately 600 individuals attended the program that was held at the Atlantic City Convention Center.

The program included the reading of excerpts from the book by Congressman Frank LoBiondo, Senator William Gormley, Assemblymen Paul D'Amato, Nicholas Asselta and Jeff Van Drew, in addition to the nine county freeholders. Copies of the book were distributed to the veterans and family members who submitted on their behalf.

The concept for the book was initiated by Levinson to help educate the public about the sacrifices of county residents who served to defend our country and preserve freedom. The book is also intended to prevent these "hometown heroes" from being forgotten.

Work on the project quickly became a "labor of love," according to Levinson. "We are very proud of this publication and those it honors."
Back to Top