Monday, November 21, 2016
MRHS Students Bring Outdoors In for Meadowview Residents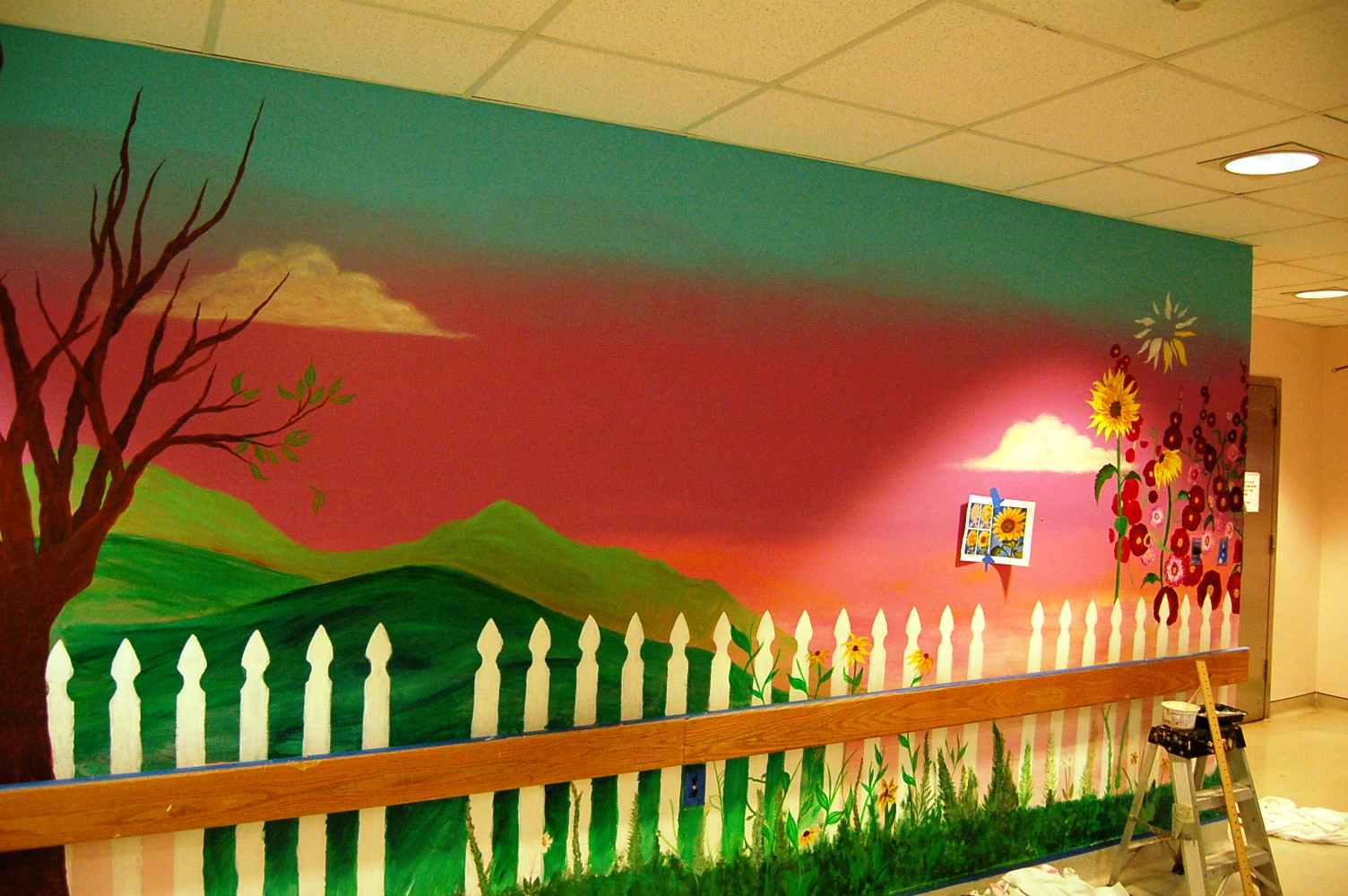 Twenty students from Mainland Regional High School recently participated in a project that helped bring familiar outdoor surroundings to residents of the dementia unit of the Meadowview Nursing and Rehabilitation Center in Northfield.
Under the direction of art teachers Lauren Ashley and Lori Vannini, the students transformed two blank walls into colorful outdoor scenes with their murals of a bus stop and a beautiful garden.
"The talent of our youth continues to amaze and inspire. We are very grateful for the participation of these students in this innovative project," stated County Executive Dennis Levinson.
"The dementia unit is located on the ground floor or 'garden floor' as it is commonly referred," noted Supervisor of Nursing Joan Foltz, "so it is very apropo that the first thing you see as you enter the unit from the elevators is this bright and cheerful garden landscape."
Foltz came up with the idea for the murals after attending a conference on dementia that discussed how art could be used to enhance patients' surroundings and their recollections.
"We decided on a bus stop as dementia patients often ask to go places. The students did a fantastic job of coming up with a realistic sketch that could also accommodate an actual bench for residents to sit on at the make-shift bus stop," added Foltz.
Nursing Home Administrator Michelle Savage was thrilled with the finished murals as well as the idea of a project that helped bridge generations and bring a greater appreciation and understanding of each other.
"The residents enjoyed watching the students create their murals and were very respectful of their space to do so," said Savage.
The students spent two days at the facility and made the most of their time.
"Their cooperation was outstanding. Each student played a role and contributed, helping to tape out walls, mix and apply paint, clean brushes and more," Foltz said.
Ashley and Vannini returned to Meadowview to complete the murals and protect them with a coat of varnish.
"We hope they will be enjoyed by our residents and visitors for many years," said Savage. "And we also look forward to transforming many more blank walls into amazing pieces of art."
Participating students included:
Mikayla Carson, Emily Clark, Cat DelGuidice, Amber Denn, Caitlin Diehl, Madison Disidori, Catherine Friel, Emma Goodwin, Madison Hull, Luke Karavan, Zara Makki, Taylor Molina, Olivia Penza, Georgia Ridgeway, Bella Roberts, Sam Schenck, Alyx Stormes, John Wallace, Hannah Walsh, and Kristen Wolfe