List of County Press Releases.
1333 Atlantic Avenue
Atlantic City
New Jersey
08401
United States
+1 (609) 343-2313
Monday, August 17, 2015
Cedar Bridge Reconstruction Update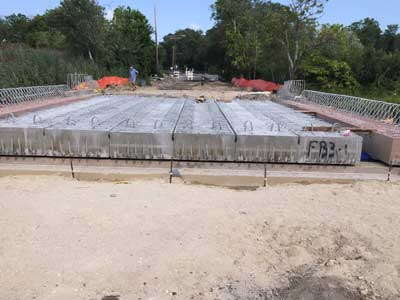 Work on Atlantic County's $1.63 million replacement of the 95-year old Cedar Bridge over Patcong Creek between Northfield and Egg Harbor Township is progressing and remains on schedule for completion this fall in coordination with the overall improvements to the intersection of the Fire and Mill Road intersection.

On Tuesday, August 18 the contractor is scheduled to deliver eight precast, pre-stressed concrete beams. The beams will be joined together and anchored into the bridge abutments.

The contractor will next begin installing scaffolding and form work for the concrete deck. After that, the utility brackets on the bridge beams will be installed to support the relocated gas main and new 8-inch water main.

The new water main will connect the New Jersey American Water Company's Egg Harbor Township water distribution system on the west side of Cedar Bridge to the Linwood/Northfield distribution system on the east side of the bridge. This will provide redundancy and help maintain water pressure during high demand situations.

Once the water company completes its water main installation South Jersey Gas will come in to relocate its gas main onto the new bridge. Then the county contractor will return to the site to finish the form work, install the reinforcing steel and pour the concrete deck which will require 15 days to cure. At that time, the utility companies (Verizon, Comcast and Atlantic City Electric) will work to reinstall their lines on the new utility poles.

With the completion of that work the contractor will return to construct the concrete bridge parapets and install the pedestrian/bicycle railing.

The final phase of work will be for the approach roadway and will include paving, striping, signage, guide rail installation and landscaping.

There may be times when it "appears" no work is taking place, but county officials explained that is often during or between work by utility companies as well as for concrete curing.


Visit the project page for more information.
Back to Top