List of County Press Releases.
1333 Atlantic Avenue
Atlantic City
New Jersey
08401
United States
+1 (609) 343-2313
Thursday, March 13, 2003
County Receives $64,400 from Social Security Administration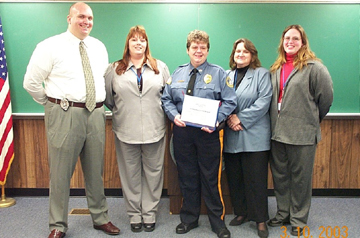 County Executive Dennis Levinson has announced the receipt of $64,400 from the Social Security Administration (SSA) for the outstanding work of the Atlantic County Justice Facility's Classification Unit in saving more than $200,000 in benefit overpayments to incarcerated individuals over the past two years.

The payment of Social Security benefits or Social Security Income payments to people confined to prison or other public institutions is prohibited by law for certain periods of time. Government agencies that institute programs to prevent these illegal payments are entitled to incentive payments. Atlantic County was one of the first counties in the state to enter into a cooperative agreement with the Social Security Administration for this purpose.

"This is another first for Atlantic County," said Levinson. "I am very proud of the effectiveness of our Classification Unit in cooperation with the Social Security Administration. Together we are helping to prevent the misappropriation of benefits at the taxpayers expense."

Since October 1, 2000, payments have been suspended to 164 incarcerated individuals at the county jail because of the inmate reporting procedures that are in effect between Atlantic County and the Social Security Administration. The county's Justice Facility provides a monthly computer matching report to the SSA to determine which inmates are in benefit status. Once completed, the agencies are then able to identify which individuals are ineligible for payments based on their time in the corrections system or the type of sentence they are serving.

Oscar Ernst, SSA District Manager, presented the "Outstanding Service Award" to Justice Facility Warden Gary Merline and members of the Classification Unit at an awards ceremony on March 10.

"It is my pleasure and privilege to recognize the extraordinary work that the employees of the Classifications Unit have done on behalf of the Social Security Administration," said Ernst. "Each of you has exceeded expectations and is an outstanding example of how cooperative teamwork should succeed."

Members include: Captain Kimberly Gregg of Dorothy, Kelly Bagnell of Egg Harbor City, Donna Brooks and Steacy Partlow of Egg Harbor Township, Laurie Doughty and Raymond Ford, Jr. of Hamilton Township.

For more information, please contact Warden Gary Merline at (609) 645-5855.
Back to Top