Friday, February 28, 2003
Atlantic County Child Support Team: Best in the State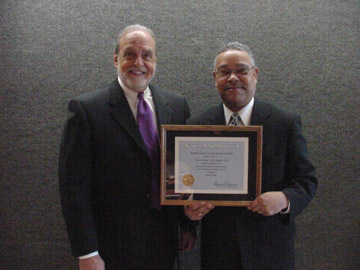 County Executive Dennis Levinson took time to honor some of his own recently as he presented members of the Atlantic County child support team with certificates in recognition of their outstanding contributions and dedicated service. The Department of Family and Community Development was awarded the 2002 "Outstanding Board of Social Services" by the New Jersey Child Support Council at the 21st annual Child Support Conference held in December.

"To be recognized as the best in the state is quite an honor," stated Levinson. "I wanted to personally thank each of the members for their hard work and dedication in the interest of child support enforcement. As they well know, child support is more than a monetary issue; it is essential to the provision of medical benefits and social security."

As a result of the child support team's efforts, Atlantic County experienced an increase in the establishment of paternity, improving from a state ranking of 17th in 2001 to 10th in 2002. This improvement was an important criteria for consideration among the 21 county agencies nominated for the prestigious state award. Other criteria involved improvement in child support collections and overall effectiveness and efficiency of the child support program.

Atlantic County also received accolades for its implementation of a fatherhood program designed to aid fathers who are unemployed or underemployed and are having difficulties meeting their child support obligations.

The members of the county's child support team are:
Mary Roche, Absecon; Stephen Allen, Keena Bailey, Delisha Gbeintor, Robert Loeffler, Sharon Miles and Catrina Wilson, Atlantic City; Betty Mason, Egg Harbor Township; Gina Merritt-Epps, Galloway Township; James Adamson, Hammonton; Karen Johnson, Mays Landing; David Behr, Northfield; Ketsy Alicea, Marcel Bennett, Margaret Coleman, Sandra Jones, Rossie Kay, Dawn Salaam and Chetley Williams, Pleasantville; and Fran Wyckoff, Somers Point.

For more information, please contact Forrest Gilmore, Department Head, Family and Community Development, at (609) 345-6700, ext. 2701.