Provides legal advice to all county departments.
1333 Atlantic Avenue, 8th Floor
Atlantic City
New Jersey
08401
United States
+1 (609) 343-2279
Below is a list of information that is exempt or situation where infomation is exempt from the Open Public Records Act.
Reasons for Denial (N.J.S.A. 47:1A-1.1)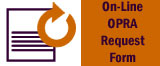 On-line Request Form
Inter or intra agency advisory, consultative or deliberative material
Legislative records
Law enforcement records

Medical examiner photos
Criminal investigatory records not included in N.J.S.A. 47:1A-3b
Victims' records

Trade secrets and proprietary commercial or financial information
Any record within the attorney-client privilege
Administrative or technical information on computer hardware, software and networks which, if disclosed, would jeopardize computer security
Emergency or security information or procedures for any buildings or facility which, if disclosed, would jeopardize security of the building, facility or persons therein
Security measures and surveillance techniques which, if disclosed, would create a risk to the safety of persons, property, electronic data or software
Information which would give an advantage to competitors or bidders
Information generated by or on behalf of public employers or employees in connection with

Any sexual harassment complaint filed with a public employer
Any grievance filed by or against as employee
Collective negotiations documents and statements of strategy or negotiating

Communications between an agency and its insurance carrier, administrative services organization or risk management office
Information that is to be kept confidential pursuant to court order
US government issued Certificate of honorable discharge (DD-214)
Social security numbers
Credit card numbers
Unlisted telephone numbers
Drivers' license numbers
Certain records of higher education institutions
Violates a citizen's reasonable expectation of privacy – N.J.S.A. 47:1A-1
Biotechnology trade secrets - N.J.S.A. 47:1A-1.2
Convicts requesting their victim's records – N.J.S.A. 46:1A-2.2
Non-law enforcement ongoing investigations if inimical to public interest – N.J.S.A. 47:1A-3
Public defender records – N.J.SA. 47:1A-5 k
Other exemptions established by State or federal statute, regulation, Executive Order or Rules of Court; or privilege or grant of confidentiality established or recognized by the Constitution of NJ, statute, court rule or judicial case law – N.J.S.A. 47:1A-9
Personnel and pension records – information that can be obtained includes: individual's name, title, position, salary, payroll record, length of service, date of separation, reason for separation, amount and type of pension received, data which discloses conformity with qualifications for employment or receipt of pension – N.J.S.A. 47:1A-10
Executive Order 21 (McGreevey 2002)
Disclosure would interfere with ability to protect and defend against acts of sabotage or terrorism or would increase risk or consequences thereof
Records exempted by State agencies' proposed rules
Executive Order 26 (McGreevey 2002)
Resumes, applications and other information about job applicants during recruitment
Medical, psychiatric or psychological history, diagnosis, treatment or evaluation information
Information in a personal income or other tax return
Information describing a natural person's finances, income, assets, liabilities, net worth, bank balances, financial history or activities, or creditworthiness except as otherwise required by law to be disclosed
Test questions, scoring keys and other examination data pertaining to the administration of an examination for public employment or licensing
Records in the possession of another department when those records are made confidential by regulation or Executive Order 9
Improper Request
A general request for information
An open-ended request that fails to identify records with particularity
An overbroad blanket request for records
A request for research by the custodian
MAG Entertainment v. Div. of ABC, 375 N.J.Super. 534, 546 (App.Div. 2005); New Jersey Builders Association v. New Jersey Council On Affordable Housing, 390 N.J. Super. 166 (App. Div. 2007); Gannett New Jersey Partners L.P. v. County of Middlesex, 379 N.J. Super. 205 (App. Div. 2005).
Back to Top