The Atlantic County Office of Geographic Information Systems provides both interactive and static maps of Atlantic County through this website.
Rt. 9 and Dolphin Ave.
Northfield
New Jersey
08225
United States
+1 (609) 645-5898
+1 (609) 645-5836
Municipal Zoning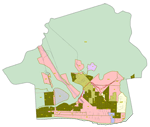 These maps represent Atlantic County municipal zoning boundaries updated from maps received in reply to our request for zoning data (2011). Boundaries were adjusted to include updates and minimize discrepancy between: zoning lines, tax parcels, and municipal boundaries. These map compositions include zoning regulatory use and residential density information.
Aerial Versions
Land Use Change
Back to Top