The Atlantic County Office of Geographic Information Systems provides both interactive and static maps of Atlantic County through this website.
Rt. 9 and Dolphin Ave.
Northfield
New Jersey
08225
United States
+1 (609) 645-5898
+1 (609) 645-5836
Sewer Service Areas Mapping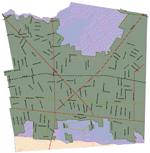 The following municipal maps were adopted in November 2013 as part of the County's overall sewer service map.
Future Wastewater Service Area, Atlantic County New Jersey, Adopted November 6, 2013

Back to Top