The Atlantic County Office of Geographic Information Systems provides both interactive and static maps of Atlantic County through this website.
Rt. 9 and Dolphin Ave.
Northfield
New Jersey
08225
United States
+1 (609) 645-5898
+1 (609) 645-5836
General Interest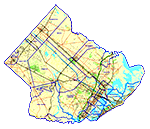 This collection of maps include various representations of different projects that the Office of Geographic Information Systems has developed in the past few years. These map compositions cover a broad range of topics both of interest to the entire county and of interest to specific areas within the county. Some of the data developed while creating these maps and analyses have been invaluble to Atlantic County and its municipalities.
Back to Top