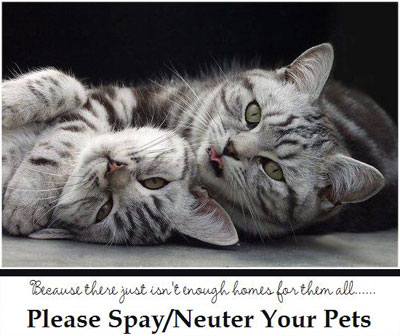 The Atlantic County Animal Shelter recommends that all pets be spayed or neutered at an early age. Spaying or neutering your pet will help it enjoy good health, happiness and a longer life. By helping to prevent the birth of unwanted litters of puppies and kittens you will also help reduce the number of dogs and cats entering shelters.
The problem of animal over population affects everyone whether or not they own a pet. Public health and safety are often threatened by stray dogs and the possibility of rabies. Pets that have been spayed or neutered are less likely to roam searching for a mate and are easier to train and housebreak.
Most pets can be spayed or neutered between the age of 2 and 5 months. Older pets can be spayed or neutered safely as long as they are in good health. Consult your veterinarian to determine the best time for your pet.
Most communities offer low cost spaying or neutering services that are sponsored by non-profit animal welfare organizations. For information on low cost services in the Atlantic County area please contact:
Humane Society of Atlantic County (609) 344-0346
Feline Population Control Program (609) 625-7922
Ocean City Humane Society (609) 399-2018
Information on NJ Low Cost Spay/Neuter Programs.